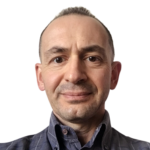 Riccardo Ardoino
Contributor
Biography
Riccardo Ardoino was born in San Giovanni Valdarno (AR), Italy, on December 10, 1970, he obtained the "Liceo Classico" Diploma in 1989 and the Degree in Electronic Engineering with specialization in "Remote Sensing" (at the University "La Sapienza") on October 31, 1995.
He worked in the Space Engineering Company [October 1997 ÷ April 1998] within the Antennas Group: here he was involved in the analysis of antenna systems
He later worked in Alenia Spazio (now Thales Alenia Space) [May 1998 ÷ February 2003] as Satellite Communication Systems Analyst, studying antenna coverage for satellite services, receiving chains, communication "links" (coding and modulations ) and navigation systems.
He was then hired by Elettronica SpA (Leading Company in Electronic Warfare Systems) in March 2003: here he worked as an Analyst until 2009, as a Systems Engineer (with roles as Project Manager) until mid-2012, as Head of the System Analysis group until 2019; since 2020 he is Principal Analyst in the Company's Research & Innovation (R&I) group.
His main interests concern the "end-to-end" analysis of microwave receiving systems, mathematical modeling and simulation of complex processes, the development of algorithms for the processing of signals and information.