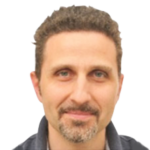 Giancarlo Chinino
EW Scientist
Biography
Ing. Giancarlo Chinino. Degree: MS Degree in Telecommunication Engineer (Communication/Radar) at theUniversity of Rome "La Sapienza".

Specialization: Radar Image Processing and Communication Systems (May 2000)Thesis: "Synthetic Aperture Radar (SAR) Image Processing", Title: "StatisticalAnalysis & Classification of Urban SAR Images". From Oct 2000 to August 2008 - Radar System Engineer and Project Leader at Leonardo (Selex–SI, Research and Development Department). Responsible for the development of Multifunctional Fire Control Radar (MFCR), MEADS DefenseSystem Program.From Sep 2008 to Jan 2010 – EW System Engineer of Airborne EW Programs at Elettronica SPA.

From Jan 2010 to Jun 2020 – Project Manager of the ELINT and Self ProtectionPayload of SIGINT AircraftToday – EW Scientist involved in the identification of the new EW products and in the support the ELT Commercial Department.