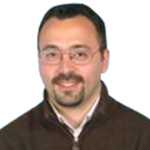 Libero Dinoi
Contributor
Biography
Libero Dinoi received the M.S. degree in telecommunications engineering from the Polytechnic of Turin in 2002.

From 2002 to 2006, he was a Researcher with the Istituto Superiore Mario Boella research center, based in Turin, working in the area of error correction coding. He is the author of 18 papers.

Since 2006 he has been with Elettronica SpA (Rome) working first as a system analyst and then as a system engineer / project manager in the areas of Communications Electronic Warfare and InfraRed Electronic Warfare systems.

He is currently the Product Manager of the ELT332 CESM installed on the PPA, LHD and QATAR Corvette classes.
No entries found for Libero Dinoi