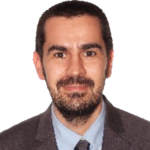 Matteo Miccoli
Contributor
Biography
System Engineer for the EO/IR Product Line of Elettronica S.p.A., Matteo Miccoli received his M.S. degree from Sapienza University of Rome in 2010.
In Elettronica S.p.A., he is involved in the design and development of the ELT/577 QUIRIS DIRCM system.

He is responsible for the EO/IR system development, integration and validation in the ADRIAN counter-drone system.