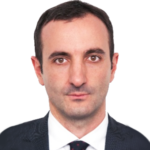 Andrea Usai
Contributor
Biography
Andrea Usai received his laurea degree in Computer Engineering in 2003 – summa cum laude – and PhD in Systems Engineering in 2007 both from the University of Rome 'La Sapienza'.

In Elettronica SpA since 2011, he has been always involved in all the activities relevant to the development and integration of the ELT/572(v)2 DIRCM system into the avionics for Self Protection Suite upgrade programs. He was responsible for the experimental integration of the ELT DIRCM system onboard the ITAF C-27J to demonstrate DIRCM-Flares coordination against next generation IR threats, during NATO Trials EMBOW XV (2015) and MAMBOW (2016).

Andrea Usai is one of the inventors of the following patents:
- Multiple Turret DIRCM System and Related Method of Operation -
EP2081895A1
- DIRCM-Flares Coordinated Countermeasure Against New Generation IR
Threats - PCT/EP2017/084260

Currently, he is head of EO/IR Product Line of the Systems & Products Engineering department at Elettronica SpA. He is also ELT technical representative in several NATO workgroups in the field of EO/IR Self Protection Suite requirements definition, analysis and validation.