Towed Decoys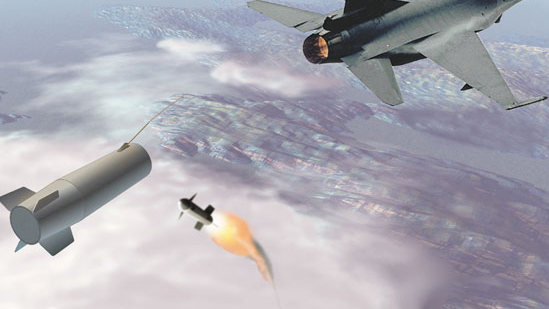 The first generation of the Towed Decoy (TD) RF (Radio Frequency) countermeasure was the ALE-50 developed by Raytheon, which was deployed in 1995. When deployed, the decoy is towed behind the host aircraft, and protects the aircraft from radar-guided missiles.
The second generation Towed Decoy is the Fiber-Optic Towed Decoy (FOTD), represented by the AN/ALE-55 (Fig.1, developed by BAE Systems Electronic Solutions for the F/A-18E/F Super Hornet) and the EURODASS FOTD (Fig.2, developed by Leonardo UK). The FOTD transmits the jamming signal provided through a fiber-optic cable by the aircraft's electronic warfare system.
Second Generation TD (FOTD) are much lighter than the previous generation TD. The onboard EWS analyses the detected radar signals and produces the appropriate jamming and spoofing signal, which is then transmitted to the FOTD through a fiber optic cable. The TD can provide up to two defensive jamming techniques against a missile radar-based threat:
preventing the tracking from a radar in the acquisition mode by jamming signals,

breaking the radar lock on the aircraft, acting as a target for the incoming missile/s.