Vehicle Protection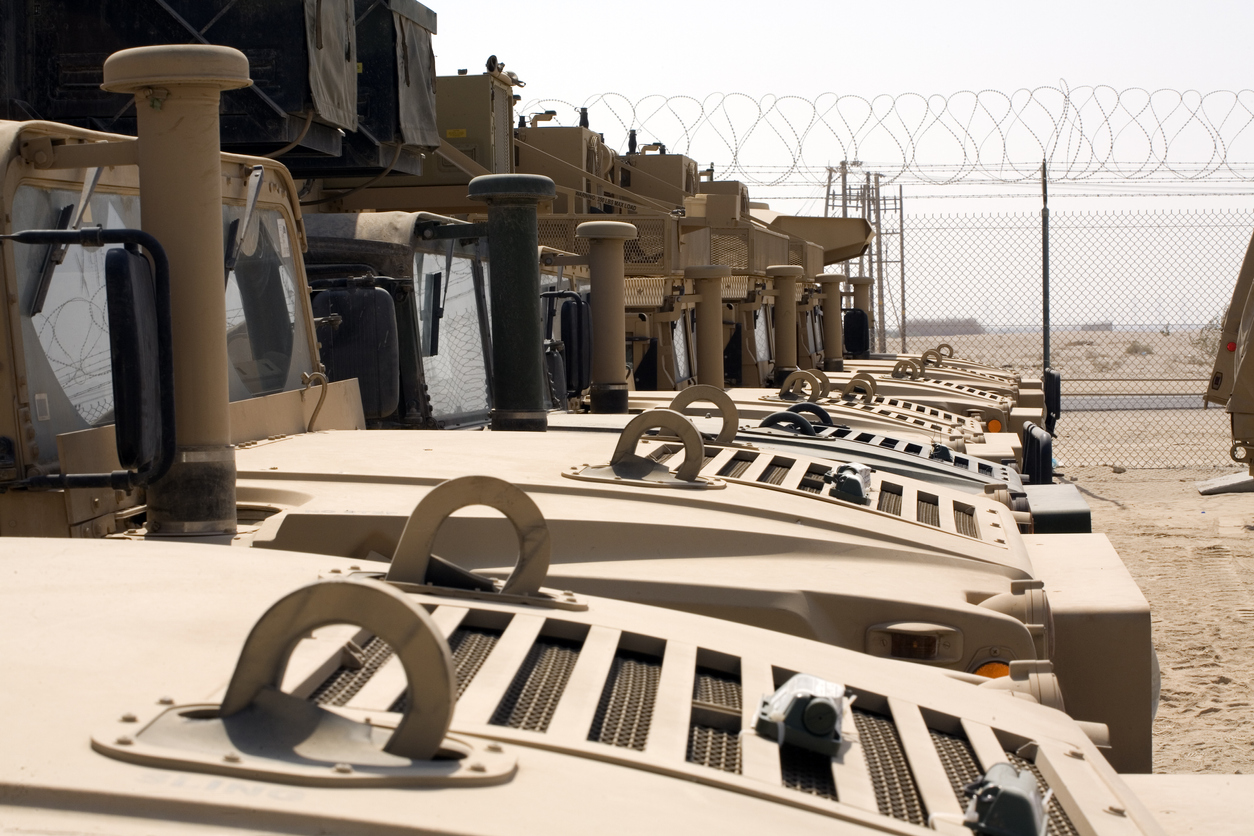 The focus is on four different types of self- protection systems, which become compulsory for modern warfare: Passive armour protection, Active armour protection, Protection by decoys, Bubble global protection
The first protection of a ground vehicle is its armour.
All new ground vehicles of the armies are protected at high levels to combat new threats: armoured vehicles must be robust, well protected and mobile, mainly with protections against improvised explosive devices, mines and must be able to travel for long distances without stopping before refuelling.
The next-generation armour may even protect the military from certain nuclear radiation and chemical attacks.
Vehicles used by armed forces are protected from a wide range of threats by adding solutions of different types: shatter lining protection, overprotection kits and associated glazing, RPG protection kits, mine protection kits and IEDs.
Shatter lining protection
A first level of protection is to install liners that are splintered against threats beyond the vehicle's initial level of protection or causing secondary shrapnel generated by the metal wall of the vehicle's body to be projected into the passenger compartment.
The liners are installed in addition to armour, in all critical parts of ground vehicles to maximize survivability on board. The different processes and materials used are usually: Glass fibre, Aramid such as Kevlar, Polyethylene High Performance Liners based on an exclusive thermoplastic resin combining resistance to extreme temperatures and the lack of release of Volatile Organic Compound in the cockpit.
Flexible/flexible liners following the curves of the vehicle 3D moulded liners to adapt to the complexity of the vehicle's shape
Ballistic protection kits and associated glazing
Ballistic overprotection kits can be installed in retrofit on existing vehicles: Use of materials such as armoured steels, ceramics, lightweight solutions composites that do not affect the performance of the Steel Based Composite vehicle, combines lightness of solutions and robustness of metal solutions.
Armoured glazing and associated frames are solutions available in kits or can be integrated on the assembly line of crates and armoured cabins.
These solutions are modular allowing for rapid crew assembly/dismantling, without specific tools.
Technologies have also been specially designed against the threat of hollow-load ammunition, such as RPG grenade launchers, to neutralize rockets by preventing their detonation.
It is not only lighter than conventional metal protection, can fit various types of new vehicles or retrofit.
Finally, they can be mounted on vehicles that cannot carry heavier conventional ANTI-RPG protection.
Light solutions: after integration between 10kg and 15kg/m2 Modular solutions allowing rapid assembly/disassembly without specific tools Protection panels for opaque areas Removable protective bars for glass areas
Anti-mine and anti IED protection kits
Welded protections and special mine and FDI kits can also be used to absorb the energy of explosions.
Use of materials such as armoured steels and Adaptable Composites depending on the type of structure of the vehicle.
They can be integrated on the assembly line of the armoured crates.
These new technologies, under development, are based on the principles of opto-pyrotechnic initiation, a technological break in the active protection of armoured vehicles.
The work focuses on the development of a reliable and ultra-fast opto-pyrotechnic initiation chain, the only one capable of meeting all operational specifications among all known mechanical or electronic devices.
This chain consists of an opto-pyrotechnic detonator – originally designed and developed for space applications – combined with a miniaturized laser source and fibre optics.
It fits easily on any armoured vehicle and is insensitive to electromagnetic radiation and electrostatic disturbances.
This new type of armour, called hard kill, is the ultimate line of defence of an armoured vehicle against threats – proliferating in theatres of operations – such as missiles and anti-tank rockets or arrow shells.
Thanks to this new technology, it is possible to trigger, with an extremely short armament time, the numerous response modules.
This system allows an attacking munition to be intercepted – disintegration of its explosive charge or dismantled into harmless pieces in the case of an arrow shell – before it reaches the vehicle, with a reaction time of less than 0.1 seconds.
Capable of detecting and intercepting ammunition fired 15 meters from the armoured vehicle, this device is particularly well suited to short-range attacks characteristic of urban clashes.
This type of system is capable of concealing armoured vehicles from nearby threats and protecting vehicles, main battle tanks or armoured protection vehicles equipped with the system.
It consists of several launcher tubes designed to fire decoys and ammunition with reduced lethality.
Three models of the control system are proposed: For light vehicle, autonomous systems are designed with a manual shooter option for combat vehicle, in the case of an immediate threat leaving no time for personnel to act, a fully automated version thanks to sensors distributed on the platform, such as laser warning sensors.
A vehicle group protection version: Launchers can be used to protect other vehicles in the vicinity.
This type of system can be used for both passive and off-duty protection of personnel.
A few years ago, an Israeli company announced that it had developed a "protection bubble" technology: the challenge is to provide active protection to vehicles against RPG (anti-tank rocket launcher) threats, a formidable weapon used in most of today's conflicts and which proves to be deadly.
Active protection is a protection that neutralizes the threat even before it touches the vehicle's armour.
The system consists of a network of electronically scanned radars, enabling the detection of threats rapidly approaching the vehicle.
The detection area provides hemispheric coverage around the vehicle.
After identifying the threat, a counter-measurement system is activated and automatically steers in the dangerous direction.
This system consists of fragmentation rocket launchers, which can intercept and detonate the enemy rocket remotely.
The system is also capable of destroying various IED-type explosive charges by detecting the frequency of detonators.
Using the same technology as the Iron Dome anti-missile system, the innovation lies in the precision of its tracking system for tracking the trajectories of enemy missiles.
The system is completely automatic, allowing you to respond almost instantaneously to the threat, even at close range.
Originally designed for urban combat, it projects fragments into a highly localized cone to avoid collateral damage as much as possible.
It can handle multiple threats simultaneously, fixed or mobile.