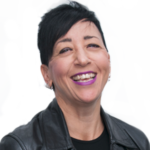 Daniela Pistoia
Elettronica Chief Scientist
Biography
Daniela Pistoia has a degree in Electronic Engineering and a
diploma for Executive Management.

In 1988 she began her career at Alenia Marconi Systems as an Engineer for Missile Systems and led the company's RF Sensor Simulation and Design Studies.

Having worked from 2000-2002 as the Head of Advanced Concepts and System Studies in the Seeker Division of MBDA, she joined Elettronica (ELT) in 2003. As Vice President for Research and Advanced Systems Design, she developed and managed ELT's product portfolio related to cyber, EW, radar and electro-optical systems.

Since 2013 she has been appointed as ELT Corporate Chief Scientist and Head of Product Innovation & Advanced EW Systems. She is author of numerous technical research papers and a regular speaker at international events.