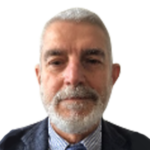 Massimo Annulli
Senior Advisor to COO, EURODASS Technical Director
Biography
Massimo Annulli is born in Italy and received his master degree in Electronic Engineering in 1974 at the University of Rome "La Sapienza", where he also covered the position of Assistant Professor of Solid State Electronics at the Electronic Engineering Department.
He served as Lieutenant in the Italian Air Force at the secretary office of the Air Force Chief of Staff.

In 1976 he joined Selenia, Special Equipment Department, where he covered the roles of Electronic Warfare System designer, Chief Engineer of the ECM POD project, Head of EW System Engineering Department for avionic, naval and land applications.

In 1993 he joined Elettronica, the Italian Company and global leader in EW as Head of naval & helicopters programs. While in Elettronica, he covered several managing roles, such Head of System Engineering, Technical Director and Senior Vice President Sales and Business Development.

Since 2015, after his retirement, he is Senior Advisor to the COO and he has been appointed as Technical Director of the EURODASS Consortium.